We are shining a light on the most unique way to discover the Scottish Highlands. Jump onboard the iconic and luxury Caledonian Sleeper train to Inverness!
Leave the stresses of long queues and security checks behind and take the more relaxed way to the majestic Highland City of Inverness. You'll board at London's Euston station and can snooze your way north on board the train. As the sunrises, it's time to enjoy a hearty breakfast in the Club Car with the Highland scenery as a backdrop.
Caledonian Sleeper – a unique way to travel.
5-star Luxury Inverness Hotel
On the banks of the River Ness, discover the stunning Ness Walk. The gated entrance announces your arrival and a glass of chilled champagne welcomes you to one of the 47 exquisite bedrooms including two suites with outstanding detailing and design. You can expect to be cosseted in our warm Highland welcome.
Planning a luxury train journey to Inverness? Then, explore our latest offers.
Luxury Transfers from train station
On arrival at Inverness rail station, book a luxury hotel transfer and let your Ness Walk experience begin before you arrive. And, let us know you're travelling by Caledonian Sleeper by contacting us in advance. If you quote 'CaledonianPriority', we will offer you priority access to an early check-in.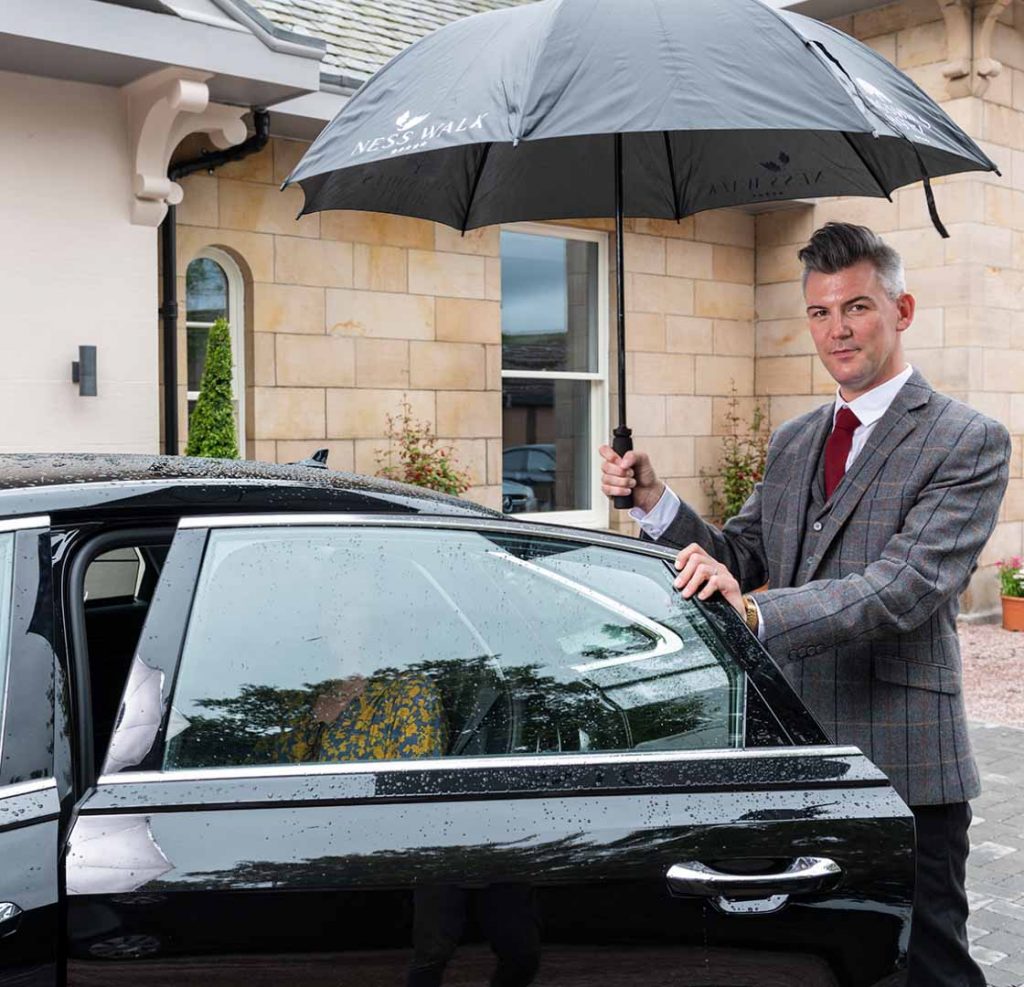 Choosing a greener option
Train travel can be one of the most luxurious ways to visit the Highlands – taking in breathtaking views, enjoying a slower pace and reducing your carbon footprint compared with other travel methods. The team at LNER have a calculator which can help you identify if this is a sustainable choice for you. Ness Walk is currently working towards achieving Green Tourism grading in 2023 so the perfect location for those conscious of travelling without impact.
When you arrive to Inverness, let our concierge team recommend an EV car hire company to allow you to explore further afield with less of a 'footprint'. And, on return after your days excursions, you can recharge your car with one of our 13 EV charging points.
Dining with a difference
Ness Walk brings to the city the stunning Torrish Restaurant. Set in the original drawing room, Torrish is blazoned with traditional detailing and with stunning views over the river. We showcase a menu filled with curiosity, discovery and adventure. And, the teamwork with local producers ensures your dining experience is rich in flavour, texture, colour and innovation.

See Our Offers