No holiday in Scotland is complete without visiting some of the finest golf courses in the world. And golfing in the Scottish Highlands and Islands is a treat for all the senses, with picturesque beaches, towering mountains, and deep lochs to enjoy. So, to ensure your holiday gets off to the right start, here are some ideas on where to go and what to do on luxury golf breaks in Scotland.
The best golf courses near Inverness
Firstly, the game of golf as we know it today emerged from Scotland in the 15th century. So, that means we have had six hundred years to perfect our stroke and design some of the best courses in the world! And if you are planning to visit Inverness, you will be spoiled for choice! Especially when you take advantage of our golf special offers.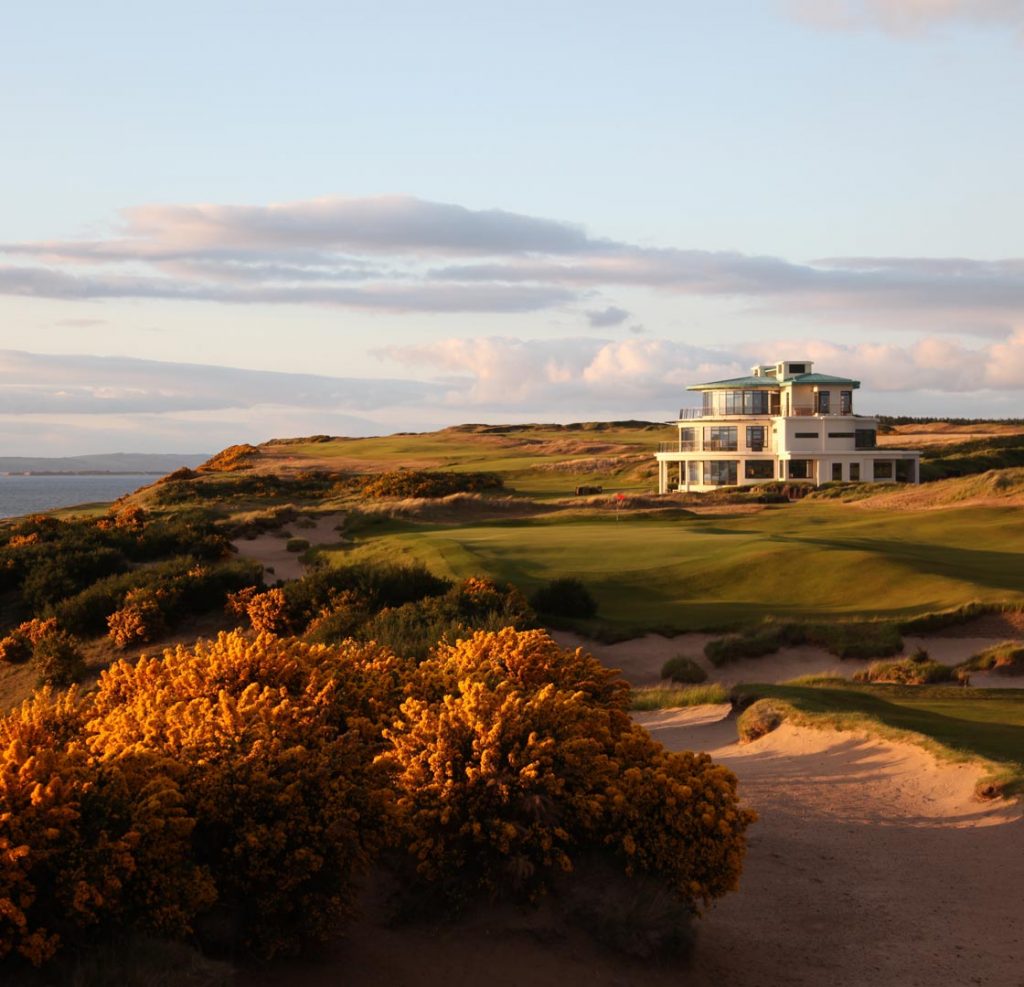 The Best Scottish Golf Courses to Play
Castle Stuart Golf Links
So, top of the list for many is the famous Castle Stuart Golf Links. And you are in for a treat with this course being ranked as one of the world's top links courses. Whatsmore, it's only a 20-minute drive from Ness Walk. And we can arrange a private chauffeur to get you there and back. Castle Stuart Golf Course is a reasonably new Scottish coastline championship links course that overlooks the beautiful Moray Firth. Of course, it offers 18 holes and as many of them are next to the sea it has a rugged feel about it. So, this course is perfect for moderate to seasoned players alike.
Royal Dornoch Golf Club
Secondly, the historic and renowned Royal Dornoch Golf Club is not to be missed. And it's within an hour's drive from our door. Founded in 1877, this stunning championship course is located on the Dornoch Firth and is wild and remote. Consistently ranked as one of best courses in the world, it is a beautiful and challenging course, not to be missed during your golf break in Scotland.
Nairn Golf Club
Another unmissable course is the beautiful Nairn Golf Club, around a 30-minute drive from Ness Walk. It's a firm favourite of Colin Montgomery. And as home of the 1999 Walker Cup and the 2012 Curtis Cup, it offers glorious views along the Moray Firth. Founded in 1887, Nairn is regarded as one of the finest courses there is. Plus it enjoys both an 18 Hole Championship Course and 9 Hole Cameron Course, and it is suitable for all ages and skill levels.

So whether you are looking for spring, summer, autumn or winter golf breaks in Scotland, enjoy a luxury experience year-round when you stay at Ness Walk. Take advantage of our golf special offers to really make your stay memorable.
Relax back at Ness Walk
And after a great day relaxing on the best of Scottish golf courses, you can return to Ness Walk Hotel for some whisky tasting and fine Scottish dining. Plus we have a wonderful restaurant catering for the most sophisticated of palates. So you can sit back, relax and explore our wonderful Scottish seafood, steak, and local produce in our Torrish Restaurant.
Our Inverness Fine Dining Restaurants
Torrish Restaurant Inverness
Torrish is our signature restaurant, serving breakfasts, afternoon teas and à la carte dinners. Here you can dine in style in our original drawing room, resplendent with original 19th-century features. As our original fine dining Inverness restaurant, here you will enjoy kitchen garden food prepared as art with a sophisticated menu and wine list to match.
Whisky Experiences & Cocktails
Finally, enjoy cocktails or a whisky tour of the Scottish Highlands from the comfort of the Torrish bar before returning to your 5 star hotel room, turned down and ready for you to sink into a delightful sleep… refreshed and ready for some more magical golf experiences the following day.
And if you fancy a day exploring, or off the golf course? Well then, why not see our other recommendations of things to do around Inverness and Loch Ness with our guide to high-end activities. Ones that go hand-in-hand with our luxury boutique Scottish hotel experience. From luxury shopping, fit for royals, to camera stalking, dog sledding, shooting, fishing, spa breaks, and afternoon teas. We also have a selection of sample holiday itineraries to help you plan your time.
So when you are planning your golf breaks in Scotland, remember to book your luxury hotel stay too, here at the five-star Ness Walk Hotel. When it's all put together, it makes for the perfect Scottish holiday.

See Our Offers