For guests staying at the 5-star Ness Walk Hotel in Inverness, there are plenty of high-end activities to enjoy in the city and surrounding Scottish Highlands. From some of the best golf courses in the world to bespoke, exclusive Highland tours. We explore some ideas below. What's more, our concierge team are always on hand to advise, make reservations and arrange transportation, tours, tickets or anything else you may need. Contact us before or during your stay if you need anything at all.
World-class golf courses
Of course, we are renowned in the Scottish Highlands for our golf courses. Golfing here is a special experience, amongst Scotland's breathtakingly beautiful landscapes. We are within reach of world-class courses, such as Castle Stuart, Royal Dornoch and Nairn. As with all of the activities on our list, we can arrange private transport for you. Simply ask our concierge team.
Camera stalking
Those looking to strike out and see some of Scotland's wild countryside, you might enjoy a day of camera stalking. This is a spectacular way to engage with the hidden Highlands and its beautiful beasts. But you may not have heard about it. Here, you are taken out into the natural glens and wilds, armed only with a camera. Your guides will take you out (by landrover, Polaris or even horseback) to find some of the best examples of Scottish wildlife. These include stags, red squirrels, wildcats and golden eagles. The aim is to shoot spectacular photographs of them in their natural habitat. This is a perfect adventure for those who love the outdoors and wish to try something a bit different. Contact us and we will organise all for you on a spectacular trip into the wilderness north of Loch Ness.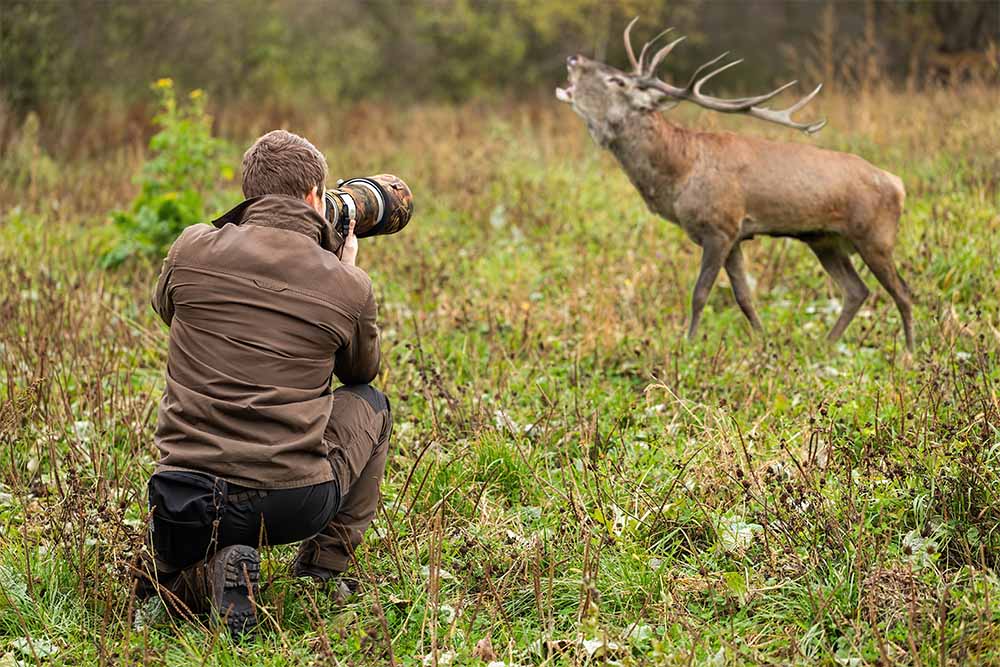 Scottish fishing and shooting parties
Highland fishing and shooting parties can also be arranged via reception in shooting season upon request. Plus we have fishing rights for the famous River Ness salmon pools, situated right outside our hotel, overlooking Inverness Castle. The Scottish Highlands boasts some of the best fishing and shooting holidays. Here we are surrounded by vast glens, flanked by the Moray Firth, and spoilt for a choice of rivers flowing into Loch Ness. As such we have no shortage of country pursuits and outdoor activities. Our concierge are experienced in caring for both large and small private shooting and fishing parties.
High-end Scottish shopping
And if the great outdoors is not your style, maybe we can entice you with our high-end shopping breaks? Royalty fly in especially to visit our shops, such as Campbells of Beauly and Johnstons of Elgin. Here you can enjoy a tailored trip and measure up for your own set of tweeds or luxury garments, hand-made to your requirements.
Loch Ness shopping and cruises
And then you can head on to Dochgarroch by Loch Ness and visit the Loch Ness boutique, An Talla. This luxurious shopping experience offers a range of Scottish craft goods, such as locally-designed jewellery and clothing. As well as high-end home ranges, you can pick up plenty of other top-quality gift ideas. And their on-site cafe offers delicious, locally sourced delights to keep hunger at bay.
This is also the perfect place to step onto a Loch Ness cruise and see this legendary body of water from a different perspective. Take in the fresh air, the Highland scenery, and perhaps – if you are very lucky – a visit from the loch's rather shy inhabitant. A cruise on Loch Ness is a must for nature, wildlife and history lovers. Jacobite Cruises will take you on a voyage of discovery on Scotland's most famous loch. They have departure points with free parking close to Inverness city centre, so the cruises are easy to access. On the water is a fantastic way to explore this vast and legendary Scottish loch, as you take in the sights and learn more about the area.

Go wild outdoors
And for the adventurers and thrill-seekers, there are so many outdoor activities on offer within our magnificent and rugged Highland landscapes. Check out these wonderful walking routes and cycling trails near Inverness. Enjoy a guided fishing trip with You Fish Scotland. Take to the water for canoeing, kayaking and paddleboard adventures with Explore Highland. Or head to the Cairngorms for some exciting winter sports.
A night at the theatre
Our hotel is just a 5-minute walk from Eden Court, a wonderful arts centre with a theatre and cinema. Some of the best touring shows in the country are performed here, with everything from drama to comedy to show-stopping musicals. Combine with a delicious pre-theatre dinner at our Torrish restaurant and enjoy a very special theatre break in Inverness. Our team can tell you what's on and book tickets for you, just ask!
Bespoke Highland tours
Want to see all the local highlights on a whistle-stop tour? Maybe you're a whisky enthusiast, keen to visit the best distilleries? Perhaps a history lover seeking out all of the ancient castles in the area? Or a huge Outlander fan, on the lookout for filming locations? Whatever your likes and interests, we'll find the perfect Highland tour for you. We work with expert tour companies, such as Invergordon Tours, who offer a range of specialist private tours, and can even tailor them to your unique preferences. Simply get in touch and we'll arrange it all for you.
Relax back at Ness Walk
After time exploring Inverness and the magnificent Scottish Highlands, return to Ness Walk to continue your 5-star luxury experience. Our restaurants cater for those with sophisticated palates, using local and seasonal ingredients where possible. Torrish is our indoor restaurant, serving breakfasts, lunches, afternoon teas and à la carte dinners. Dine in style in our original drawing room resplendent with original 19th-century features. Take part in a whisky tasting at the bar or try something from the delicious cocktail menu. And perhaps enjoy some freshly-caught langoustines with the sound of the River Ness flowing in the background. Perfection!
To arrange any of these activities and more during your stay with us at Ness Walk Hotel, please contact our friendly team. We look forward to welcoming you for a truly spectacular stay!

See Our Offers