The River Ness offers superb salmon and trout fishing and is undoubtedly one of the angling jewels of Scotland. Indeed, when other rivers suffered in 2021 due to drought conditions, the River Ness flowed on unaffected. This is because of the huge reserve of water feeding this 6-mile-long river. Loch Ness holds more water than the combined waters of England and Wales. Consequently, the River Ness starts at Loch Ness at Dochfour Weir and then flows steady and true for 6 miles through Inverness onwards to the Moray Firth.
Salmon fishing on the River Ness
Firstly, The River Ness salmon season starts on 15th January and ends on 15th October. The Ness is a wide river, so 14 ft or 15 ft double-hand Spey rods are perfect.
Salmon fishing is ideal for beginners or experts alike. Here at Ness Walk Hotel, we can arrange guided fishing trips for you with Alba Game Fishing. Alba will provide all the premium fly fishing tackle and gear that you need. They also carry high-quality breathable waders and boots in all sizes. Moreover, they supply top quality, and new Crewsaver 165 Sport PFDs (personal flotation devices to keep you safe). Wading in the River Ness is easy and your guide will keep you in the right places.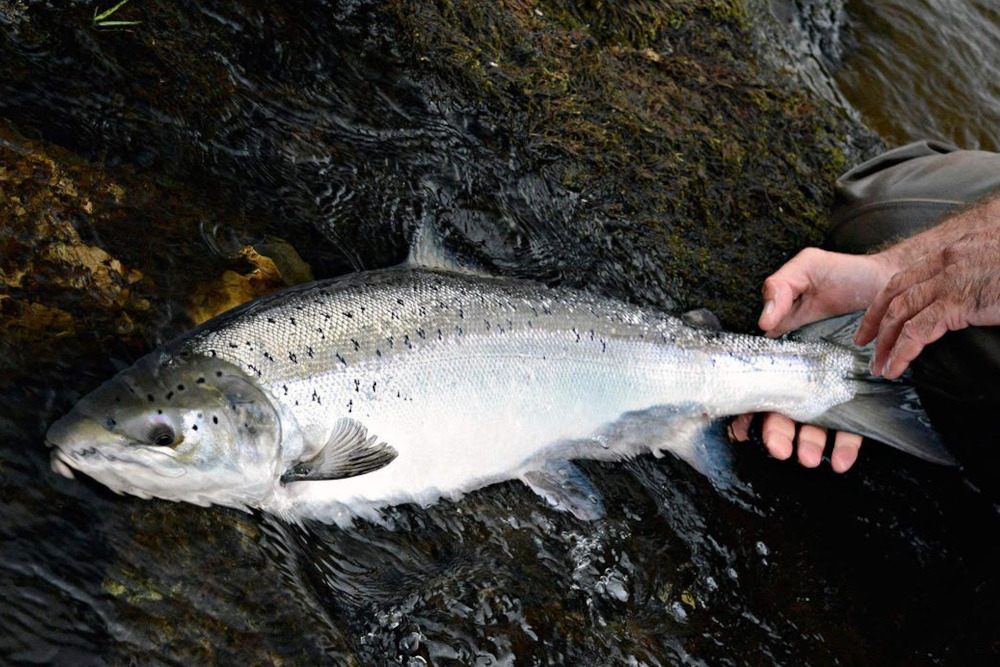 Fishing guides on the River Ness
To begin your day, your fishing guide can pick you up from Ness Walk (or our sister hotel, the Kingsmills). Your guide will have everything you need for an enjoyable and safe day. Also, they can dedicate time to teaching (or improving) Spey casting techniques with a double-hand rod. On some occasions, when the river is high it is also possible to spin cast.
If the salmon are not cooperating, then there are some lovely wild brown trout in the River Ness. It can be enjoyable to mix your day up and fish for trout for an hour or so, and your salmon permit covers this.
There are fishing huts to lunch in, overlooking the river, if you bring a packed lunch from the hotel. Also your guide will take photos of your day and share these with you, allowing you to relax and enjoy the fishing and scenery. A typical day starts with an 08:30 am pick up and drop off back at the hotel at 5:30 pm. Naturally, they are flexible with pick-up and drop-off times.
Alba Game Fishing, established 2004
Alba Game Fishing was established in 2004 and is an Orvis-endorsed fishing and touring company. They have 22 fishing guides located throughout Scotland and 4 guides that cover fishing on the River Ness. Alba offers a range of fishing experiences including fishing on Highlands lochs, The River Ness and the River Spey.
The founder of Alba, Stewart Collingswood, went to college in Inverness and this is where his love of the River Ness was established. Stewart said, " I have fished the River Ness since the 1980s and it has always been one of my favourite rivers in Scotland. It's an understated gem and whilst not getting the attention that the Spey and Tay get, it's a truly iconic Scottish salmon river and should not be missed"
To arrange a fishing trip with Alba Game Fishing during your stay with us at Ness Walk Hotel, please contact us today.

See Our Offers