On Thursday 27th October, we were delighted to say a warm Inverness welcome to a full house of guests for the first of our Supper Club series of 2022. We love gathering like-minded individuals to enjoy unique culinary experiences in our social and relaxed environment and this evening was a celebration of fine dining and beverage. With the backdrop of our fire-pit lit veranda and cosy nooks of our lounge, the intimate Torrish Restaurant played host to our evening. Sumptuous dining and fine beverages are combined in the warmth of Ness Walk. And, we were delighted to be partnering with some great producers to deliver the experience.
Tomatin – To What Matters
Launching their brand new 'Portuguese Collection', Tomatin Distillery joined us on night with their Port, Moscatel and Madiera Editions… a celebration of Portuguese Wine flavours. The brainchild of Portuguese Sales Manager Jose Mesquita, each whisky was born in 2006. And, the following 8 years were spent in traditional Scotch casks. Then, on 23rd April 2015, the whiskies were then moved into Tawny Port, Moscatel de Setúbal and Tawny Port casks to create magnificent triad of Single Origin Whiskies.
Scott Adamson, Brand Ambassador, introduced the three drams and the aroma of these beautiful expressions flooded the room. Certainly a highlight of the evening! Sláinte!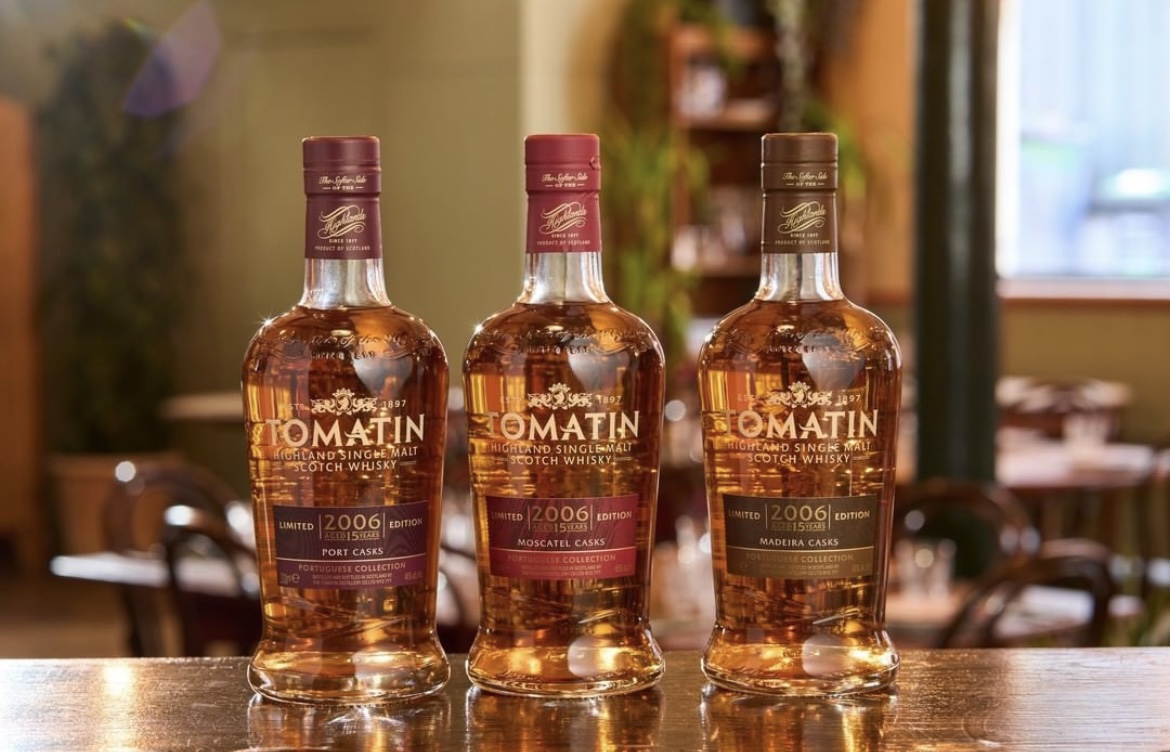 Quinta De Chocapalha
Accompanying the starter and main course, two beautiful wines from the beautiful Quinta De Chocapalha vineyard were chosen. Quinta de Chocapalha is nestled in undulating hills extending down to the Tagus River in the Serra de Montejunto mountain range. This stunning vineyard and its wines reflect the family's passion and commitment. The two chosen wines tonight were paired beautifully with our menu.
Supper Club Menu
A beautiful menu of European curiosity. A soft centred crispy garlic palette complimented the smoked tomato and paprika velouté beautifully. Our starter for the evening was a pan seared Orkney scallop. Stunningly presented in a scallop shell and accompanied by squid ink risotto, organic sundried tomato, chorizo and a light and fluffy chilli foam. The show-stopping main event was a Roast Gressingham Duck Breast. Cooked perfectly pink, this decadent dish embraced rich flavours. Smoked beetroot, braised chicory. A rich port glaze. Each echoed in the paired Red Wine from Quinta De Chocapalha.
Our talented Pastry Chef Kevin Roy, then treated to a contemporary take on the 'Pastéis de Nata', a traditional Portuguese dessert. This exquisite dessert exhibited floral flavours of jasmine in the custard with a refreshing orange blossom sorbet sat alongside. And the evening continued, with a grand finale! Delicate dark chocolate and port truffles and and an orange & whisky pate de fruits… Stunning accompaniments to the three Tomatin Whiskies.
View Supper Club Menu
Sign up to our Supper Club Newsletter
Our Supper Club in Inverness is a highly anticipated event, with our first edition selling out in 24 hours.
To be the first to hear about future editions of our Ness Walk Supper Club, sign up to our food and drink newsletter – with exclusive early opportunities to book our experience.

See Our Offers