Deep in the Cairngorm Mountains, step into a world of flavour, tradition and adventure with a Whisky Food Safari Experience; hosted by internationally acclaimed food writer and broadcaster Ghillie Basan. Paired with a luxurious stay at Ness Walk Hotel, this experience offers an opportunity to delve into the diverse and enchanting world of whisky in a truly authentic setting. 
Whisky Safari in the mountains
Your experience begins as you leave Inverness, headed south to the Cairngorms. Make your own way into the mountains, or organise transportation with our concierge team. As you head into the mountains, weave through Tomintoul, pass the contemporary Cairn Distillery and historic Braeval Distillery. Then, head 'off the beaten track' and into the wild, rugged and colourful moorlands, home to Spirit and Spice.
A taste of Scotland's liquid gold
The Whisky Food Safari Experience offers an intimate encounter with the country's finest export: whisky. In the comfort of her Highland home, join host Ghillie for a journey through some of the region's finest malts. Enjoy malts such as Benriach, Glenlivet and Glenfiddich. Guided through the flavour profiles, then taste expert pairings with both local and international flair.
Culinary delights and pairings
We take pride in offering exquisite dining experiences at Ness Walk and this whisky safari does not disappoint! By breaking down the aromas and tastes in the whisky, the interactive experience has been carefully curated to combine both fine food and beverage. Interacting with one another, you will prepare spice pastes with pestle and mortars and discover flavour profiles to guide you. Each element is picked to complement each other and the chosen drams. Then, you'll assemble locally sourced ingredients with your spice pastes on a Highland slate before tucking in.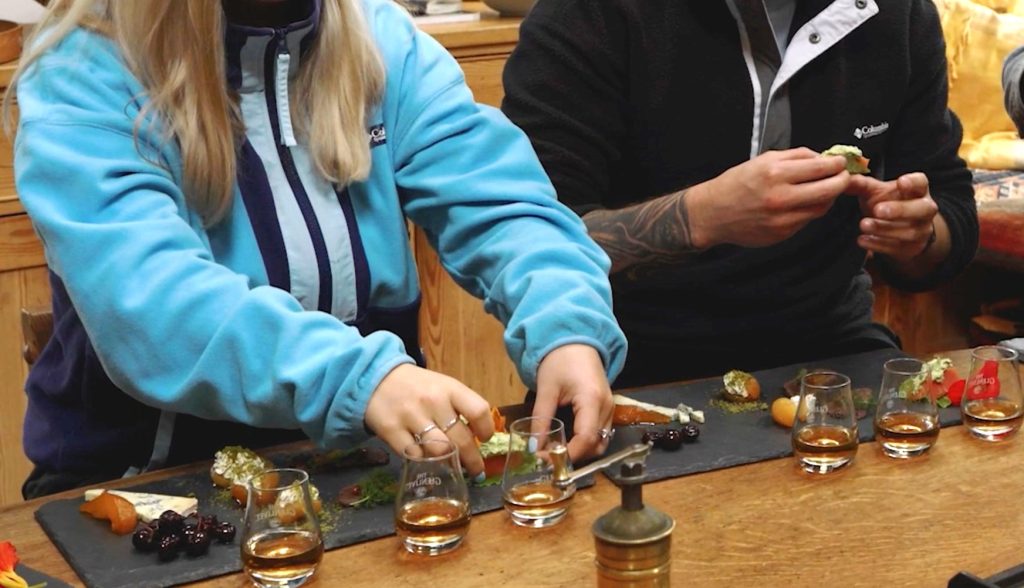 Immerse in the backdrop of a roaring log fire, views over the captivating and wild mountains and wrap up in the warm hospitality. Without doubt, this is no ordinary whisky tasting and food-pairing experience!
Allow 3-4 hours of your time for this relaxing and memorable experience; perfectly enjoyed as your midday or evening meal.
Spirit & Spice by Ghillie Basan
Often dubbed the 'Original Spice Girl' in media circles, Ghillie Basan specialises in spices. With her flavour expertise, she has created global food pairings for multiple whisky brands.
Ghillie has travelled worldwide to research and write over 40 books on different culinary cultures, inspired by Cordon Bleu training. Most recently, she has lovingly transformed a ruined croft into a family home and raised children alone in this wild and beautiful landscape. You can join her and discover this breathtaking experience.
Return to Luxury
At Ness Walk, we are committed to offering luxury and sustainable opportunities to explore and enjoy our home; the Scottish Highlands. And, there is no better way to explore the rich whisky heritage of Scotland than through an immersive and interactive Whisky Food Safari. Book this experience when booking your room or reach out and our concierge team will make the reservation for you.
Terms;
Allow 3-4 hours of your time for this relaxing and memorable experience. Transportation is required and our concierge team can assist if you do not have your own vehicle. Location: AB37 9JS. Please note your booking will not be considered confirmed until we have checked availability with Ghillie Basan. Experience booking required 7 days, or longer, prior to arrival. Available Sunday – Thursday. This experience will be charged in full if cancelled within 7 days of reservation date.

See Our Offers